Managed Compliance Services Full-Service Compliance
GhostWatch combines our world-class audit team with a state-of-the-art audit compliance technology.
GhostWatch manages the entire compliance journey with real-time visibility at a reasonable cost.
Having performed hundreds of compliance assessments, GhostWatch has tremendous experience successfully guiding, managing, and maintaining compliance for our clients.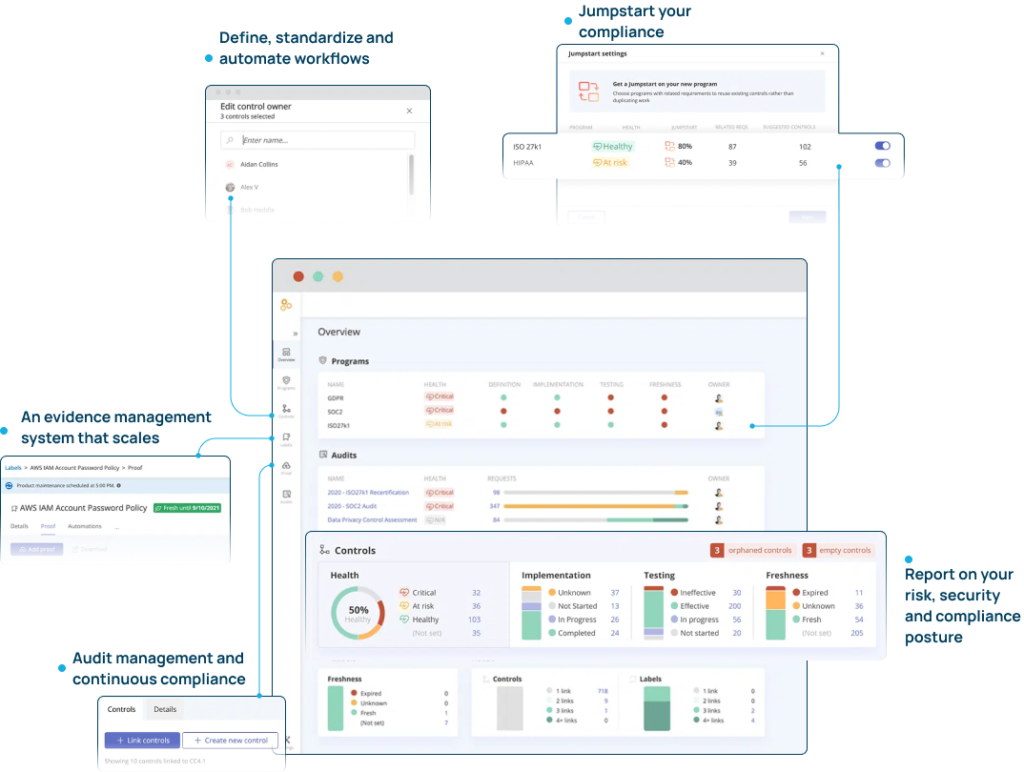 GhostWatch Managed Compliance Includes

We deploy a dedicated compliance manager throughout the project. One-on-one consulting with experts and answers to all your questions

Expert analysis and guidance. We perform a gap assessment and provide a remediation roadmap, assess your existing controls and build new one

We pre-certify your compliance and manage your independent audit

We establish boundaries, guidelines and best practices, create customized compliance policies and procedures

We ensure visibility, executive reporting and monitor compliance year-round

We optimize your compliance management by using an intuitive easy-to-use platform to organize, standardize, and automate our work
Limited compliance and security resources, modest budgets, and less developed company policies and procedures are just a few of the issues facing compliance teams. Our Managed Compliance Services is designed to mitigate these issues and prepare our Client's for success.
Our compliance team assigns responsibilities, manages what work needs to be done, and ensures real-time reporting with dashboards and executive briefings.
Why GhostWatch Managed Compliance Works

We do it for you with effortless onboarding and no compliance headache

The quickest path to compliance

Deep cybersecurity and compliance skills and experience

Excellent value for money
GhostWatch provides the people, process and technology.
Dedicated team We plan and execute all compliance work
Compliance requires hard-to-find skills and experience (cybersecurity, IT, and audit) . Lack of skills and experience increases the likelihood of errors and audit failure has very negative consequences
The GhostWatch team does the heavy lifting of compliance to meet your objectives year-round. Our industry-leading technology and skilled team of experts unite to deliver world-class service 24/7. 
GhostWatch serves clients of all sizes, across multiple industries with extensive expertise and over a decade of experience.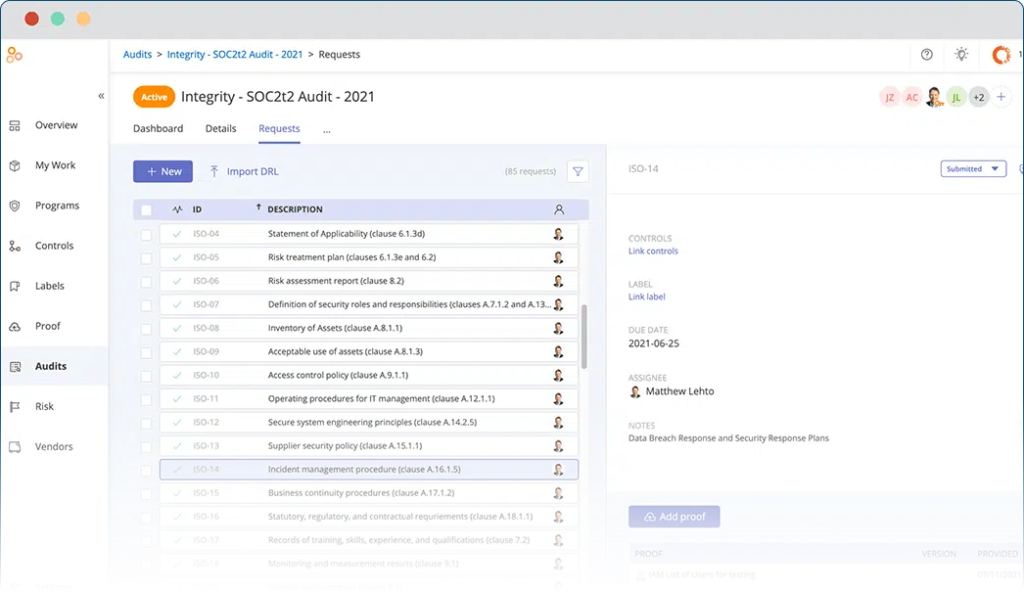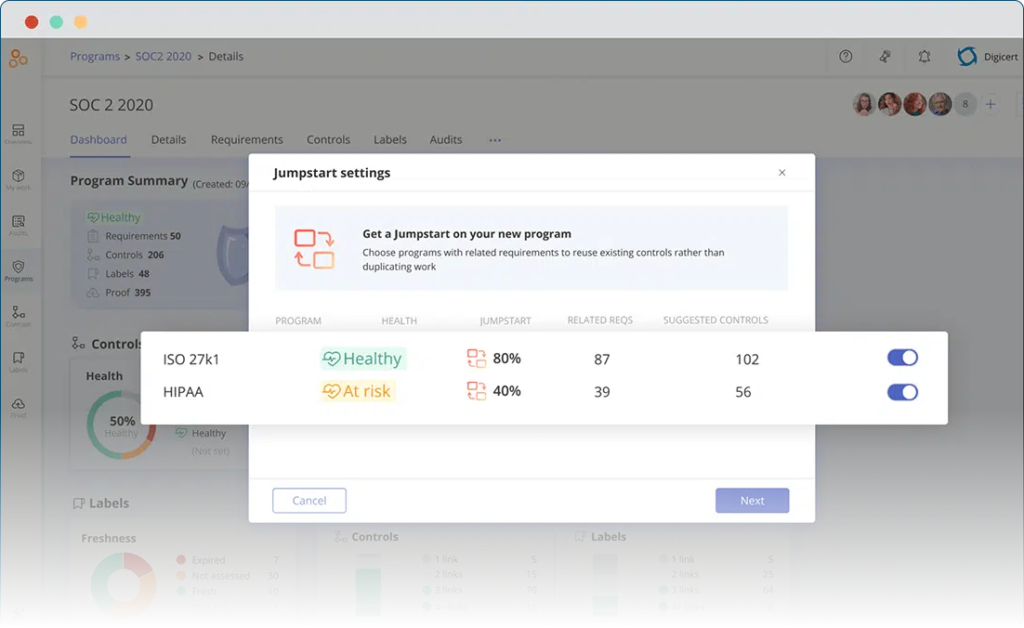 Plan and Execute All Compliance Work Jumpstart your compliance / audit-preparation effort
GhostWatch expedites compliance by providing best-in-class framework, control libraries, automated evidence-collection processes, and pre-certification audit-readiness assessments.
GhostWatch provides dedicated and trained compliance experts. We optimize compliance tasks by creating, organizing, automating, and monitoring compliance activities.
With GhostWatch, you can get started quickly with a compliance framework, cut out manual work and gauge your audit-preparedness posture in real-time.
The platform comes with a quickstart template for SOC 2 and a growing library of others – including ISO 27001, PCI and many others; each featuring requirements and illustrative controls.
With filterable dashboards and drill-down reports, GhostWatch professionals quickly gauge readiness for an upcoming audit, see what work needs to be done, who's responsible for the next steps, and whether adjustments need to be made to their project timeline.
Automation Define, standardize and automate workflows
GhostWatch's Managed Compliance Platform comes with workflow optimization and automation features that make control mapping (to compliance requirements and to other controls), control implementation, evidence collection, testing, and monitoring far more organized and efficient.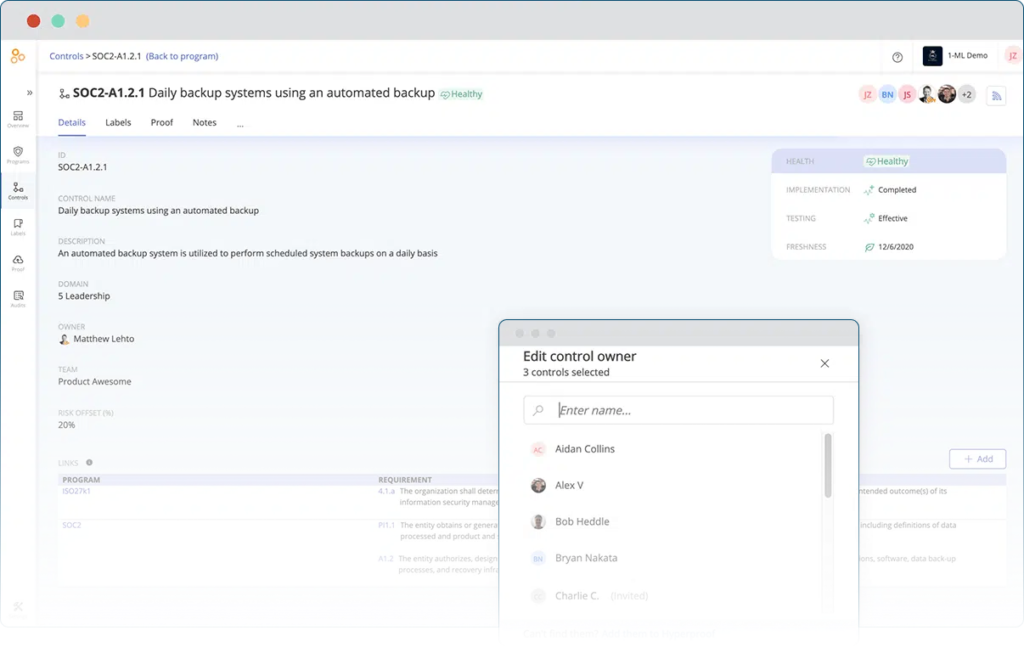 Our platform makes it easy to assign controls to individuals or teams, call out what they need to do to operate a control, and when review activities need to happen. And it's simple to re-assign controls when people shift around.
As the scope of certifications increases, compliance teams may need to onboard additional products and/or owners onto controls. The platform's team assignments allow for quick onboarding of new products and/or control owners through child controls while maintaining common information at the parent control level.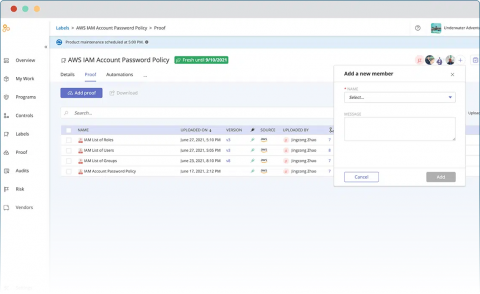 Evidence Management An evidence management system that scales
Evidence collection is tedious and expensive engineering resources waste time gathering audit evidence. With our platform we save time when collecting evidence of controls' effectiveness, while ensuring that evidence collection tasks happen consistently to produce relevant and fresh compliance artefacts.
With our platform, all evidence can be centrally stored, categorized appropriately, labeled, mapped back to specific controls and regulatory requirements, and made accessible to stakeholders across all various corporate and product groups.
Security assessments always involve an auditor's review of your company's current security policies, incident response plan, business continuity plan, privacy policies, and other documents. The platform integrates with many cloud-based file storage systems so the latest versions of company policies and key documents can be pulled in automatically.
Evidence can be shared across an organization so that stakeholders in one business unit or group can see what another group is doing and apply those same policies and practices within their domain. This helps ensure that consistent evidence management practices are implemented across a company.
We can automatically collect proof from dozens of cloud-based apps and services on a cadence or on-demand. Types of proof we can automatically collect include: Backup settings, encryption settings, access groups, lists of users, code change management evidence, and more.
Continuous Audit management and continuous compliance
GhostWatch manages audit lifecycles year-round, pre-certifies controls before audits begin, and manages information requests and external audits.
We break down risk silos and avoid redundant activities. Then identify, assess, and manage your risks in the context of your company's core mission and objectives.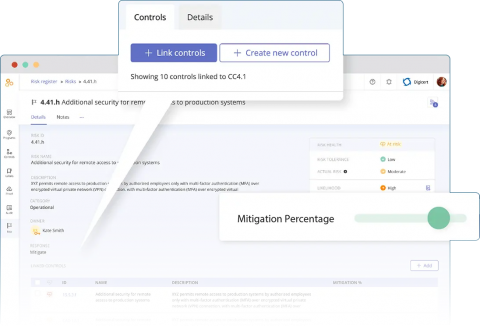 Risk owners from all functions and business units can document their risks and risk treatment plans, and organizations' leaders can better prioritize risk management activities. Risk scoring criteria can be customized.
We tie a control to a risk and gauge how much of a specific risk has been mitigated by existing controls vs. the residual risk that remains. Provide your leadership team with insights into how risks are being managed and which risk mitigation activities to prioritize.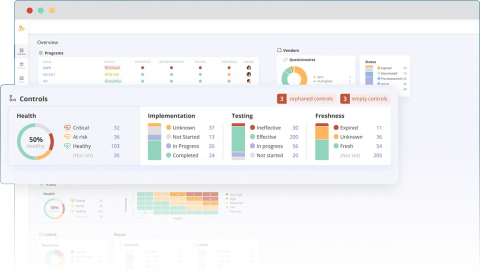 Real-time Visibility Report on your risk, security and compliance posture
With GhostWatch you can monitor your risk, security, and compliance posture in real-time via dashboards, showcase your progress with custom reports, and effectively communicate to company executives why security and compliance work matter.
With our platform, all evidence can be centrally stored, categorized appropriately, labeled, mapped back to specific controls and regulatory requirements, and made accessible to stakeholders across all various corporate and product groups.
GhostWatch visualizes the work that needs to be done to be ready for upcoming audits. Get real-time updates on your organization's audit readiness posture.
Our pros see in real-time how close your organization is to being SOC 2 compliant, what work still needs to be done and instantly drill into problem areas, such as controls with critical health status.
The platform allows us to generate ad-hoc reports or PDFs of customized dashboards and export and share them with your stakeholders. You can also schedule reports to be delivered to people through email.
Integrate and Automate Integrations
GhostWatch integrates with your tech stack, including cloud infrastructure, DevOps, security, and business applications so that compliance work can fit seamlessly into your existing business processes and workflows.